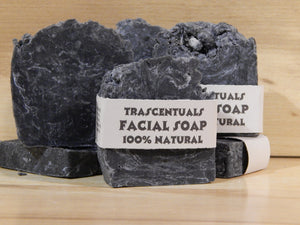 Activated Charcoal Face Soap With Tea Tree Oil
TRASCENTUALS FACE SOAP is great for everyday face cleaning and can help with acne issues.  It contains tea tree oil and activated charcoal.  This combination draws out impurities and deep cleans the skin.  It also, contains lavender oils to heal the skin.  We recommend using the all natural Trascentuals Lavender Fields Body Butter after washing with this facial soap.  This combination acts as a one two punch to knock out facial impurities.  The face soap pulls out all the bad stuff while the body butter cream replaces the skin nutrients with natural moisturizers and minerals.
 As with all our soaps this is small batch handmade in America.   Our Trascentuals Handmade soaps contain all natural ingredients such as: Coconut Oil, Shea Butter, Olive Oil, Palm Oil, Grapeseed Oil, Castor Oil, Hemp Oil, Coconut Milk, Essential Oils and many other good for you ingredients.