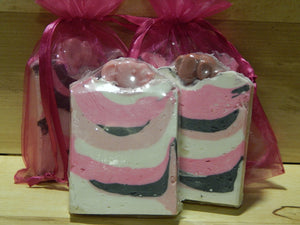 Floating Elephants Natural Whipped Soap Bar
This soap smells just like Ginger Ale. It's called floating elephants because it is a whipped soap, this means it's not as smooth as the others because it has air whipped into it, the air makes it float. This is a great soap for kids because it floats it the tub and has little elephants on the top of each bar.
 As with all our soaps this is small batch handmade in America.   Our Trascentuals Handmade soaps contain  natural ingredients such as: Coconut Oil, Shea Butter, Olive Oil, Palm Oil, Grapeseed Oil, Castor Oil, Hemp Oil, Coconut Milk, Essential Oils and many other good for you ingredients.