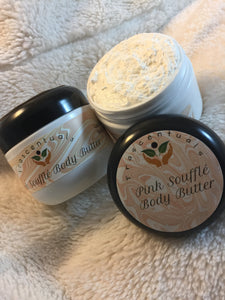 BODY BUTTER PINK SOUFFLÉ
This fluffy soufflé like body butter is to die for! With scents of:
Sparkling Pear, Peach Nectar, Wild Berries,
 Tiare Flower, Jasmine Petals, Waterlily, Sheer Apple Blossom, Coconut Milk, Vanilla Orchid, Creamy Sandalwood, Chiffon Musk. This fresh soft butter will 
immediately soak into your skin leaving you soft and smooth all over, and smelling wonderful!!!